Good Sunday morning all! I'd been on vacation from work this past week which explains why my blog updates appeared with much more frequency than usual. I return to work on Monday and more than likely I'll blog once or twice a day, or every other day, depending on what's going on in Ray's career at any given moment. Tonight Ray Stevens appears on a 1972 episode of
Hee-Haw
on the RFD-TV channel. The show airs at 8pm Eastern, 7pm Central. I'll be writing a re-cap of the episode here and over on Ray's official
message board
later tonight. One of the burning questions is: will Ray Stevens be clean-shaven or will he have a beard? It's difficult to predict because I've seen pictures of him from as early as 1969 with a beard...and then there were pictures taken of him in 1973 with a glorious beard that you could lose your hand in...then in 1975 he had a beard part of the time...so tonight's 1972 episode of
Hee-Haw
should answer that question.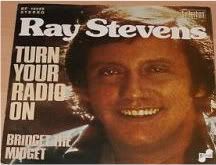 The big song that Ray had out in 1972 was "
Turn Your Radio On
". The single had been released late in 1971 but reached it's peak in early 1972. The gospel single was just one of the several gospel-flavored recordings issued by Ray during that time period. "
All My Trials
", "
A Mama and a Papa
", and "
Love Lifted Me
" were released as singles, too. That same year Ray released his
Turn Your Radio On
album. The single reached the Top-20 on the Country chart in America and the Top-10 on Canada's Country chart. On America's Pop chart, the Hot 100, it reached the Top-70. In the United Kingdom the single reached the Top-40. On Easy-Listening radio the single reached the Top-30 in America and the Top-5 in Canada. Judging Ray Stevens based upon exclusive chart statistics for one format or another doesn't truly represent his popularity. One song may not connect with a country audience the way it may connect with a more wider pop audience. Also, a song that fails to connect with the American public may have become a big hit in Canada or Europe. This is why it's never fair to focus exclusively on the pop chart in America or the country chart in America. To get a sense of his overall popularity it's best to focus on all the weekly commercial charts that are or, were, in publication during the time the songs and albums were released.
There was a point in time when several of his singles were hitting in Canada but not connecting with people in America to the point of pushing the song into the radio-oriented Top-40. A 1963 single, "
Funny Man
", reached the Top-20 in Canada but on America's pop chart it ranked in the Top-90! Radio listeners in America weren't hearing that wonderful ballad from Ray Stevens but Canadian radio listeners were.
You'll never see his Canadian chart stats quoted much...but there were plenty of times where a song of his hit in Canada but didn't hit as big in America. "
Unwind
" reached the Top-20 in Canada and "
Mr. Businessman
" reached the Top-10...by comparison, in America, "
Unwind
" reached the Top-60 and "
Mr. Businessman
" reached the Top-30 on the pop chart. This same thing holds true with the various radio formats in America. Several of Ray's singles in the mid '70s hit with country audiences instead of pop audiences. One single in particular, "
Love Lifted Me
", didn't reach any of the American or Canadian based music charts...but it managed to obtain a Top-5 ranking in Bangkok of all places in the fall of 1972. Apparently the music buyers there appreciated Ray's aggressive, rock-oriented take on the gospel song. You won't see that chart statistic quoted much, if at all, by the numerous authors of liner notes, the biographers, and music historians of the world who either want to focus exclusively on the American pop music chart or the American country music chart.
"
Love Lifted Me
", as mentioned, didn't make the charts in America or Canada...and it didn't reach the United Kingdom chart, either. A particularly scathing write-up, punctuated with crass and cynical observation, appeared in a July 21, 1972 UK newspaper. Apparently, and of course I have no proof, but the critic seemed annoyed that Ray's biggest hits were happening in America and not in the United Kingdom...something the critic pointed out in his own kind of way. Either that or the critic was marginalizing Ray's popularity as an artist. In hindsight Ray made the United Kingdom charts 7 times as compared to his American chart appearances...which boasts more than 50 appearances altogether when you factor in song, album, and home video releases.
Shifting gears from 1972 and landing 39 years later, in 2011, we find that Ray Stevens' latest music video on You Tube, spoofing the TSA, "
The Skies Just Ain't Friendly Anymore
", has obtained 71,114 unique views during it's first 10 days on-line! The video was uploaded during the late afternoon on February 17th and it looks as if it'll obtain 100,000 views any day now. I often use the term "hits" when referring to "unique views" but recently I discovered that the phrases aren't interchangeable and that unique views is the proper term to use. I'm sure a lot of other people use those words interchangeably, just as I do, but for the purposes of specificity I'll use the phrase
unique views
from now on.
Reminder: Those who get RFD-TV, Ray Stevens will be a featured guest on tonight's 1972 episode of
Hee-Haw
!