An early Monday morning here...in my previous blog entry I commented that the "
Obama Nation
" music video from Ray Stevens was ever so close to reaching the half a million mark! At the time the video had 499,280 views. Later that day I checked the totals and it indeed cracked the 500,000 mark...500,426 to be specific. A few hours later it had jumped to 500,926. I didn't look at the totals on Saturday. I looked on Sunday afternoon and seen that it had increased even more to 517,852 unique views...and at the moment it's sitting with 522,452!! As you can tell it's a pick-up of more than 21,000 views over the weekend which is pretty good considering how the weekend usually finds people away from their computers for large periods of time. I'm often away from the computer much of the weekend as well. It's almost playoff time in baseball and soon the NFL football season will be underway.
Did anyone see the movie,
2016: Obama's America
? I'm not a movie goer but I read some of the commentary from those who saw it and read some of the commentary from those who said they'd never watch it. Critics, I should say partisan critics, of the film label it as pure propaganda from a conservative point of view and non-factual. Does anyone else out there have a suspicion that the critics of this film were praising the anti-Bush projects that were filling the movie and television screens a couple of election cycles ago? I hope the film grosses millions upon millions at the box office and in DVD sales. As mentioned, I'm not a movie goer, but based upon the commentary it sounds like a factual movie.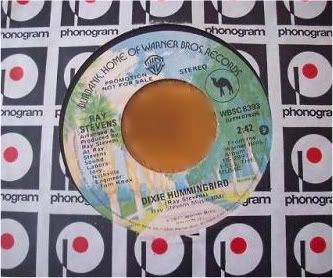 35 years ago in 1977 Ray Stevens was on the charts with a catchy number called "
Dixie Hummingbird
". This particular song became a hit in various parts of the country, often referred to as a regional or local hit in the music business, but it didn't break into the Top-40 half of the national country music charts. Nationally it peaked a few slots below #40 but as many, many readers of this blog are well aware, chart numbers and statistics don't necessarily tell the Ray Stevens story and that's a big reason why the numbers belie his true popularity. A lot of the time, based on my way of thinking, radio programmers were to blame for the lack of major chart runs. It was typically a combination of presumption and prejudice, I think, on the part of major market radio programmers who felt that a 'Ray Stevens song' shouldn't acquire the same attention, as say, a new George Jones song or something new from Ronnie Milsap because Ray's "
a comedy act
" and "
shouldn't be taken seriously
.". That's just my opinion, though, but I feel my opinion is accurate considering that even today a lot of critics have a very difficult time taking Ray's thoughts and feelings seriously and they derogatorily write him off as nothing more than "
a comedy act
".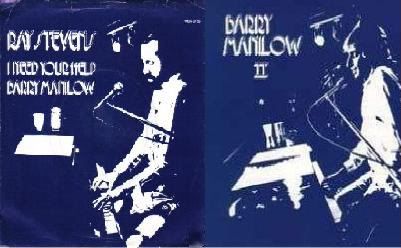 It's often been said that comedy music can be interpreted many, many ways. Sometimes the intentions behind a song can become misunderstood by the audience. Often a serious, introspective thought can be taken the wrong way and come across comical by the listener...or at the other extreme, something meant to be sarcastic and funny, is taken seriously. In other words a comedy/novelty song, specifically, can take on a life of it's own through fan interpretation. As an example is this 1979 single from Ray Stevens titled "
I Need Your Help, Barry Manilow
". Written by Dale Gonyea, some people who heard the song back when it was new and some who've discovered the song in subsequent years/decades walk away with various interpretations of what the song is all about. Some take it as a tribute while others see it as a wicked parody. Some take it seriously while others see a satiric intent. I happen to love the song, as a song...I've never interpreted it as a wicked parody or a legitimate homage. The only thing I knew is when I heard it I
loved
it! I first heard this song in the early '90s when a 1987 Ray Stevens compilation from MCA entered my personal collection.
Greatest Hits, Volume Two
contains this hit. As you can see the publicity department pulled out all the stops when promoting the song. The single's picture sleeve was a spoof of Manilow's second studio album. The cover art of the 1979 Ray Stevens album that contained the song,
The Feeling's Not Right Again
, visually parodied the Manilow album from 1975 titled
Tryin' To Get the Feeling
. "
I Need Your Help, Barry Manilow
" reached the Top-50 on the Hot 100 and the Top-20 on the Adult-Contemporary lists in 1979. This became Ray's final pop music hit.