Happy 4th of July all you Ray Stevens fans! As usual, on the 4th of July or in the days leading up to it, I often single out patriotic or military songs that have been recorded by Ray Stevens. I do this to keep things up to date. I could easily say "check my July archives in 2010 and 2009" but that isn't something that I intend on doing. Given that Ray for the last year and a half (December 2009 to the present) has reinvented himself as a voice for the Independent voter and one who often thanks the branches of the military on a consistent basis in his interviews I decided to once again write about his patriotic contributions on this 4th of July 2011.
The 2010 CD from Ray Stevens,
We The People
, is chock full of patriotic and political songs. Up until a few months ago this was considered Ray's current CD. He has since released the
Spirit of '76
which I'll write about a little bit later. Decked out in Founding Father clothing, Ray issued this amazing collection several months after taking the internet world by storm with his music video, "
We The People
". This collection features most of the songs that have become You Tube fixtures for Ray in recent years: "
We the People
", "
Caribou Barbie
", "
Throw the Bums Out!
", "
Come to the USA
", and "
The Global Warming Song
". The CD also contains "
Thank You
", an earlier patriotic ballad from 2003 that fit the overall theme of the collection. As far as patriotism/military songs are concerned "
Thank You
", obviously, is in that mood. A song called "
Midnight in Baghdad
", a haunting ballad if I do say so myself is about the trials and tribulations of war and how it affects different people in different ways. It's the album closer. "
Let's Roll
" incorporates a lot of military originated catch-phrases, battle cries, and lyrics synonymous with heroism. The phrase's modern usage is connected to a passenger in one of the hijacked airplanes on 9/11. Ray wrote the song. He also co-wrote "
Thank You
" and "
Stand Up
". An additional song on this CD that Ray co-wrote is "
The Fallen Ones
". As you can perhaps tell by the song's title it's about the soldiers who've died during battle.
"
There's a Star Spangled Banner
" appears on this 1991 compilation from Curb Records and as long-time fans are aware it's an alternate version from the one that appears on his 1989
Beside Myself
album. Whereas the 1989 recording tells the story of a POW in Beirut who longs to have freedom, the 1991 version starts out with a history of many of the wars and battles that the American flag endured through the decades. Each version keeps the same melody and the chorus is the same...the only difference is the opening verse. The Gulf War was going on in 1991...which obviously required some different lyrics during the opening verse so as not to be directly identified with Beirut. That's all just my opinion, though. I have no first-hand information as to why there was a re-write of the lyrics...but I think my opinion as to why there was a re-write makes perfect sense.
If any of you visit on-line music sites...and even Amazon's Mp3 store...you'll no doubt be familiar with the way on-line stores are erroneous with the song's title. Many places refer to Ray's song as "
There's a Star Spangled Banner Waving Somewhere
".
This is incorrect!
That particular recording was recorded by a lot of other artists but Ray never recorded it. The actual title of Ray's song is simply "
There's a Star Spangled Banner
". I always feel compelled to mention that because there may be people who see the song listed incorrectly in an Mp3 store and because of the mistake the consumer may be disappointed that they didn't get the song that was advertised. That sort of thing is why I always try to point out the mistakes, the misinformation, and the myth's from critics, reporters, and other bloggers when it comes to Ray's career and music.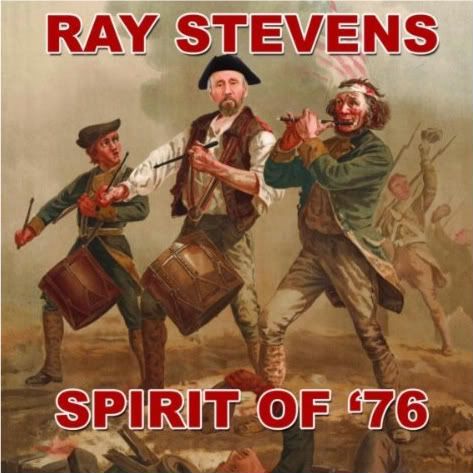 Ray's current CD,
Spirit of '76
, has only been available for a couple of months. It hit in April 2011 as an Mp3 digital download on Amazon. About a week or so later it became available in Mp3
and
CD format at Ray's web-store. According to Amazon, the CD version of
Spirit of '76
will finally become available for purchase at their web-site on August 9th. I know a lot of people nowadays buy Mp3's instead of CD's but there's a segment of Ray's audience that like having a CD of music with art work, musician and songwriter credits, and everything else that comes with a standard CD. As you can see Ray's CD uses the iconic image of
The Spirit of '76
painting. Unlike the 2010 CD which contained 22 songs and a DVD of 4 music videos this latest one is the standard 11 song collection. It features "
God Save Arizona
", "
The Skies Just Ain't Friendly Anymore
", "
Obama Budget Plan
", and eight more.