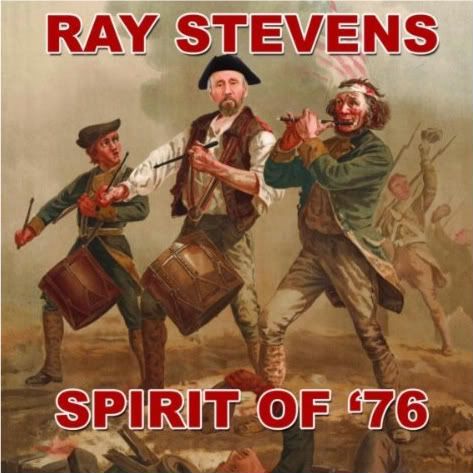 Good late Sunday night to all the Ray Stevens fans! In my previous blog entry I took a look at a lot of the music video projects that Ray's been a part of since 1992. My original entry several days ago that I published was rather short and so earlier today I edited in a lot more information and included some recent pictures of myself spotlighting some of my Ray Stevens items. Tonight's blog entry is built around spreading the word around that Ray will be heard on WSM radio on August 1st. I don't believe I'm speaking of this too soon...but keep in mind that appearances can be canceled or postponed at the last minute...so I'm often weary of spreading the word around too far in advance. As of now, Ray will be heard at some point during the Eddie Stubbs show on WSM radio August 1st. The time given is 7-9pm...by my guess this is Central time. Those who live in the Eastern time zone that means 8-10pm. There's not much information, at the moment, on just what all will take place on August 1st but I assume Ray will be interviewed in person given that the radio program will be broadcast from the Country Music Hall of Fame...and more than likely the topic of his new CD,
Spirit of '76
, will be brought up. Also, a few weeks later, Ray will speak at a Chet Atkins event...the event takes place at the Hall of Fame, too, on August 13th.
So, my guess is, Ray's appearance on Eddie's radio program on August 1st will create awareness for both the new CD and the upcoming Chet Atkins event. Eddie, in addition to hosting a 5 hour radio program on WSM Monday-Friday, is an Opry announcer, the announcer for the
Marty Stuart Show
on RFD-TV, and he also hosts a monthly radio series called
Intimate Evenings
and it, coincidentally, takes place at the Hall of Fame...with a small audience...so chances are
Intimate Evenings
is the 2 hour program Ray will be appearing on August 1st!!
If I find out anything else about August 1st I'll either write a new blog or edit this one. WSM streams on-line for those who can't pick up the station on the radio.
Ray's current music video, "
Obama Budget Plan
", continued to hover around the 380,000 range. At last glance the video's view count was 379,889. I look for Ray to debut a new music video in August or September. The "
Obama Budget Plan
" is a little over 2 months old but in the world of on-line video that's the equivalent to the average life span of a song on the country charts. The difference being that on the radio a song is played for several more weeks after it's reached it's peak...commonly referred to as a recurrent by that time...on an on-line video site this of course doesn't happen and so a new video has to surface to continue a hot streak for the artist. I'm hoping a few of the songs on the
Spirit of '76
emerge as music videos...as I've often said I like the potential of "
Mr. President - Mr. President
" to easily reach half a million people. There's also "
New Normal
" and "
News Machine
". It would be surprising if Ray doesn't do anything with the "
Mr. President
" song but ultimately which songs become music videos is up to Ray...I'll like whatever he puts out. By this time next year we'll all be focused on the 2012 Elections!