The 1990's will forever be known among fans of Ray Stevens as the home video era. It was during this decade that Ray came up with a revolutionary idea to sell home videos through direct mail and by-pass retail stores.
Comedy Video Classics
would eventually become a million selling home video and along the reach the #1 spot on various home video charts in 1993 once it was released to retail stores. This is the DVD re-release from several years ago. I've got the original home video as you'll see below and I also have the DVD counterpart. The collection originally hit in 1992...commercials for the home video aired on TV stations night and day and all over the country. As mentioned, the collection hit retail stores in 1993. The product was issued by Curb Records. The home video remained a fixture on the weekly video charts for more than a year. It was eventually named the Home Video of the Year by Billboard magazine. The home video contains 8 music videos.
Amazing Rolling Revue
is one of the products that was not advertised beyond his fan base. The project was also released in 1992 but it didn't feature a collection of music videos like
Comedy Video Classics
did. Instead,
Amazing Rolling Revue
was intended to be a pilot for a possible television program. The overall concept of the series was to focus on a literal traveling concert...Ray acted as emcee aboard a bus and at various moments we'd get comments from the bus driver, Darrell Waltrip. Sight gags include Waltrip treating the bus as if it were a race car...several times the camera shook to create the illusion that waltrip was being reckless behind the wheel. In addition to the intimate concert portion we also get sketches featuring Ray and several country music personalities. Sylvia joins Ray in a spoof of cooking shows where they sing "
Making Cookies
". Ray portrays his psychologist character, Sickmind Fraud, in a series of sketches. Chet Atkins makes an appearance in a commercial spoof in which Ray's character is selling replicas of Chet's hands for those who want to play the guitar just like Chet.
Ray Stevens Live!
was the official follow-up to
Comedy Video Classics
as far as direct marketing is concerned. This 1993 home video duplicated the runaway success of it's predecessor as far as chart durability and sales. The only difference being
Comedy Video Classics
remained charted for a much longer period of time. In fact, when
Ray Stevens Live!
was released to retail stores in 1994, it often competed with
Comedy Video Classics
. It wasn't uncommon to see Ray's two home videos flip-flop from week to week: one week the 1992 home video would be at #5 and the 1993 project would be #4 and then the next week the positions would switch. In the Live! home video we see part of a show that Ray put on during his run in Branson, Missouri. Ray had a theater in operation during 1991 through 1993 and he taped several of his performances there. The first Live! home video featured quite a bit of his performances and between song banter. If one has never seen Ray perform "
I Saw Elvis in a U.F.O.
" then you owe it to yourself to look for
Ray Stevens Live!
on
eBay
and other on-line flea markets.
Not advertised to the masses this home video sequel includes additional performances from the same concert captured on
Ray Stevens Live!
. In
More Ray Stevens Live!
we also are treated to performances by Ray's band and harmony singers. Ray's band went by the name of the French Fried Far Out Legion. Ray's brother, John, is featured heavily in this particular home video as he serves as the theater's emcee. John introduces all of the musicians and harmony singers which leads into performances of "
Bridge Over Troubled Water
" and "
Love Can Build a Bridge
". There's a performance of "
R-E-S-P-E-C-T
" by Janice Copeland in character as Beulah. Copeland was a featured vocalist and co-star in many of the comical sketches that Ray presented for the fans. In the first
Live!
home video Copeland can be seen as Jane during the performance of "
Gitarzan
". Ray performs several songs on
More Ray Stevens Live!
but a heavier dose of the camera time is focused on his band and the performances cut out of the first video. For those curious Ray performs the following songs:
1. Cletus McHicks and His Band from the Sticks
2. Turn Your Radio On
3. In The Mood**
4. The Haircut Song
5. The Mississippi Squirrel Revival
6. It's Me Again, Margaret
7. Everything Is Beautiful
(**)- "
In The Mood
" was presented in an elaborate production where the members of Ray's band pantomimed the chicken clucking performance that played over the public address system. Most of the band members got into the act by flapping their arms and tilting their heads back and fourth clucking to the rhythm. The audience, I imagine, were well aware that the band wasn't actually clucking like chickens but nonetheless appreciated the effort that was put into the performance.
A few months after Ray closed down his theater he embarked on the making of this direct-to-home video movie. The movie runs 110 minutes and the story deals with an artist who doesn't get along that well with new management. As a comedy singer, Ray plays the part rather semi-autobiographical. Ray's new record producer, in the movie, wants Ray to start marketing himself as a serious artist. He tells Ray of his bright idea which backfires. Ray balks at the idea and is soon running from his record producer as well as Dudley Dorite of the highway patrol. While the record producer and his underlings set about destroying Ray's career and labeling him politically incorrect, Dudley Dorite in the meantime has gathered people who have the same names as those that Ray's put into songs over the years. These people, according to the movie's plot, really exist and they're seeking damages based upon the "embarrassment" that Ray's songs has brought to an entire community. This particular home video followed the previous two's shiny path to Platinum certification. The video reached retail stores in late 1996 and just like it's two predecessors (
Comedy Video Classics
and
Ray Stevens Live!
),
Get Serious!
became a multi-week chart hit throughout the last part of 1996 and into the first half of 1997.
This particular home video is a behind the scenes documentary on how Ray put together his
Get Serious!
movie. The program features snippets of interviews by those who appeared in the movie. We get comments from the likes of Buddy Kalb, Michael Airington, Chet Atkins, director Rod Thompson, and others. Obviously I suggest you look for the 1995
Get Serious!
movie before you go about tracking the documentary down. The documentary is rarely offered for sale but it's a nice companion to the movie. It's a neat look into how the movie was made and it includes bloopers/out-takes showing how much fun everyone had during the production. The title of the home video plays on the unbelievable idea that Ray Stevens would make a feature length movie:
Ray Stevens Made a Movie?? Get Serious!!
. Those who had supporting roles in Ray's movie were: Buddy Kalb, Connie Freeman, Jerry Clower, and Michael Airington. The cameo appearances are rather lengthy: Chet Atkins, Williams and Ree, Johnny Russell, Charlie Chase, Larry Black, George Lindsey, and several faces familiar to those who own Ray's 1992
Comedy Video Classics
release.
A carrying case...originally the case was manufactured to house Ray's first 6 home video releases. However, the movie documentary was something that I didn't own at the time and I substituted it's space in the carrying case with Ray's 2000 home video,
Funniest Video Characters
. Even though I've since bought the movie documentary I've yet to place it in this carrying case and so
Funniest Video Characters
continues to remain on display. The case is something that was mailed to me by the fan club as one of the runners-up in a story contest. There was a contest among fan club members to come up with a story that made sense but incorporated a lot of Ray Stevens song titles in the dialogue. I can't even remember what in the world I wrote but apparently it was sufficient since I was one of the people awarded one of those carrying cases. The winner received more things, obviously. We each got a copy of the winner's story. I have it tucked away in one of my desk drawers along with other items from the fan club days. Ray's fan club closed down in 2002 but I had been a member since 1995. I used $10.00 of my high school graduation money to become a member. Then when I got a job a year later I continued sending in my annual payment.
The way I understand it, based upon my own theories, the main reason the fan club shut down (after having been active since 1987) is because of the internet and how people from all over the world could instantly visit a singer's web-site and potentially purchase music and other items. No longer was it financially viable to have a fan club up and running if people from all over the world can easily visit a web-site and purchase music, t-shirts, home videos, etc. etc. using an on-line order form. Fan clubs are still around...but nowadays they're mostly used for publicity purposes and for concert ticket giveaways...most artist's sell their merchandise to the world using their own on-line store. It used to be completely different...a person more or less had to become a fan club member in order to purchase music that had disappeared from the store shelves. When I was a member of Ray's fan club you'd get a catalog in the mail of all the items they were currently selling. You'd also get a newsletter and some trinkets throughout the year just for being a member.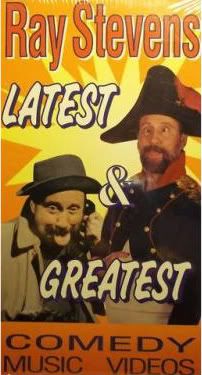 This 1996 best-of collection,
Latest and Greatest
, showcased exactly what the title states. Several of Ray's music videos from 1995 (the latest) and those from 1992 (the greatest) appeared on this release. There's a total of 10 music videos...6 of them are lifted from his 1995
Get Serious!
movie and the other 4 come from 1992's
Comedy Video Classics
. This 10 music video collection, released in the summer of 1996, wasn't promoted or publicized too much and was more or less an item not widely known beyond his fan-base. I remember that when the collection was released there was a small mention of it in one of his fan club newsletters and so I kind of had an idea that there wasn't going to be much of a publicity push for the collection. Anyway, the way I see it, this 1996 collection was more or less the inspiration for 2001's
Greatest Video Hits
...a release that was sold through his fan club and eventually in other outlets.
In 2003 Ray released a 6 song collection of music videos called
Cartoon Video Collection
. The videos feature live-action Ray interacting with limited animation characters while the background images are all illustrated designs. In one of the videos, "
Hang Up and Drive
", various car wrecks are comically highlighted as a result of driving while talking on a cell-phone. The collection features the following music videos: "
Bridget the Midget the Queen of the Blues
", "Deerslayer", "
Erik the Awful
", "
Gone for Good
", "
Hang Up and Drive
", and "
Osama Yo' Mama
".
This 2-disc collection is a 2004 DVD release featuring 21 music videos. There are 10 music videos on disc 1, plus a bonus video, equaling 11 altogether. There are 8 music videos on disc 2, plus 2 bonus videos, equaling 10 altogether. Disc 2 is 2000's
Funniest Video Characters
with 2 bonus videos added on. Disc 1 is 2001's
Greatest Video Hits
, minus the music video "
Santa Claus Is Watching You
" and replaced with "
Power Tools
", with 1 bonus video added on. The 2001 release features Ray delivering commentary between almost all of the music videos and explaining how he wrote or found the songs he recorded. He talks about the day Bill Justis approached him with the phrase "
Gitarzan
" which led to the writing of the song. The bonus music videos contained on this 2-disc collection are "
Thank You
" on Disc 1 and "
Hello Mama
" and "
Osama Yo' Mama
" on Disc 2. The name of this 2004 release is
Complete Comedy Video Collection
. Obviously with the omissions of several music videos it's not exactly "complete" but it's the closest thing to a complete collection of his music videos at that point in time.
These two DVD releases from Curb Records arrived in 2006. Each release features 5 animated music videos. In the DVD titled
Gourmet Restaurant
we see animated music videos of "
This Ain't Exactly What I Had In Mind
", "
Barbeque
", "
Jeremiah Peabody's Green and Purple Pills
", "
Gourmet Restaurant
", and "
The Ballad of Cactus Pete and Lefty
". The other collection,
Teenage Mutant Kung Fu Chickens
, features the following animated videos: "
Can He Love You Half as Much as I?
", "
Harry the Hairy Ape
", "
Teenage Mutant Kung Fu Chickens
", "
Misty
", and "
Along Came Jones
". These music videos, featuring limited animation, were the next step in Ray's earlier experimentation of animated videos on the earlier release called
Cartoon Video Collection
. The difference between the 2003 and 2006 music videos are the appearance of live-action Ray in 2003. The 2006 videos feature Ray in animated form as you can tell from looking at the DVD covers.
In 2009 Ray issued the
Cartoon Carnival
series. The series came in Volume One and Volume Two. Each Volume consisted of 10 music videos. The allure of the collections were the additions of 2 newly released music videos on each Volume. "
The Moonlight Special
" and "
Smokey Mountain Rattlesnake Retreat
" appeared for the first time on Volume One while "
The Camping Trip
" and "
Hugo the Human Cannonball
" appeared for the first time on Volume Two. The other 16 music videos in the two volume series all appeared on collections released in 2003 and 2006.
Since December 2009 music videos have once again become the primary source of creativity and outlet for Ray Stevens. Starting with "
We The People
" and going forward Ray has released several music videos on the video hosting site, You Tube. All of the videos carry either a political or patriotic flavor...and at the core of all the releases is Ray's distinctive style of humor and his broad acting skills. Millions upon millions of people have watched various music videos from Ray Stevens...and this particular blog entry I feel has demonstrated that Ray Stevens truly is the Comedy Video King.