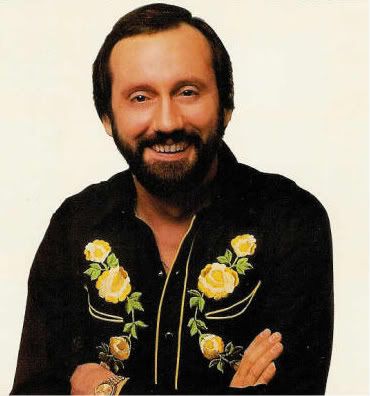 Oh what a wonderful
Greatest Hits
album this happens to be. RCA records released this compilation in 1983 as their final project on Ray Stevens prior to his re-joining Mercury Records later that year. The image of Ray that was used for the album's cover is one of my all-time favorites and that recognizable smile/grin across his face clearly indicates the fun that listeners will have once they hear the material. Personally speaking this was the collection that introduced me to "
The Moonlight Special
" for the very first time. I fell in love with that song the moment I heard it...and it was my dad who informed me what Ray was spoofing in the song. I had never heard of The Midnight Special at that time but I knew that Ray was impersonating Wolfman Jack for some reason or another. After I learned more about The Midnight Special, "
The Moonlight Special
" became even more funnier. Ray does impressions of Gladys Knight and the Pips, Alice Cooper, and Jerry Lee Lewis in addition to Wolfman Jack.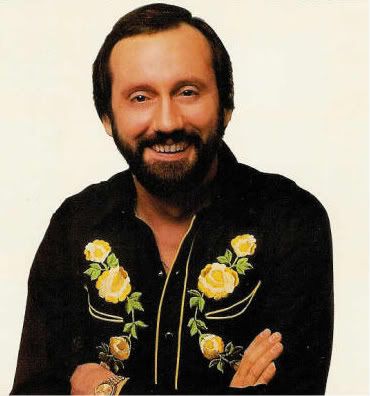 This specific compilation contains material that had already been showcased on countless compilations in year's past with the exception of two songs, "
Shriner's Convention
" and "
The Dooright Family
". Those two songs originated from Ray's debut album on RCA in 1980,
Shriner's Convention
. It's anyone's guess as to why RCA didn't spotlight any material from Ray's 1981 and 1982 albums...each of them consisted of a couple hit singles. RCA could have been thinking about overall popularity and if that's the case it makes sense to spotlight a couple of songs from the 1980 album...an album that reached the Top-10 on the Country Album chart in Billboard.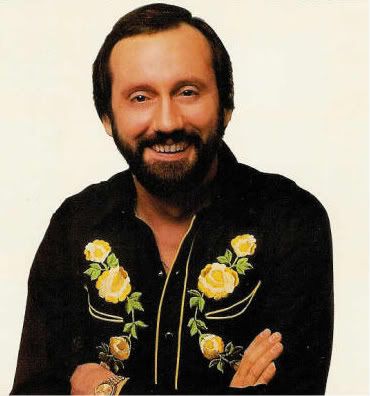 This collection features ten songs regarded today as Ray Stevens classics...even in 1983 quite a few of the titles were regarded as classics in his career: "
Gitarzan
", "
Mr. Businessman
", "
Everything Is Beautiful
", "
Ahab the Arab
", "
The Streak
", "
Misty
", and "
Freddie Feelgood
". Since the album's release "
Shriner's Convention
" and "
The Dooright Family
" have joined the list of classics according to his fans. As far as sales are concerned this collection featured several hit singles that at the time had a combined total of nearly eight million copies. The version of "
Ahab the Arab
" on this collection is the much more widely distributed recording from 1969...the original, from 1962, is often featured on compilation collections issued by Mercury Records and their subsidiaries. Mercury, after all, is the label he was on when he recorded that song. Those who want to hear the 1962 original can also search for various Oldies retrospectives which feature various artists...often the 1962 recording was included on those collections.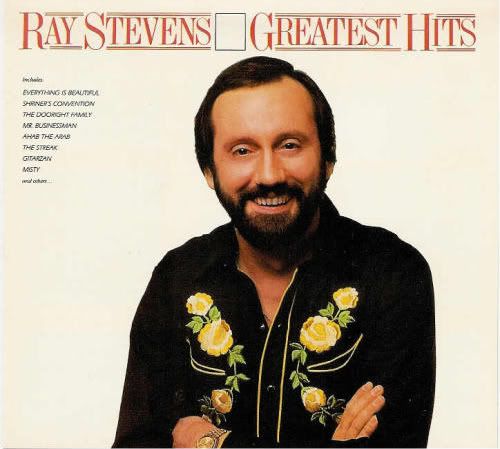 I've got this collection in cassette format and it's been in my possession for years. I don't have the vinyl format and I don't have the CD version. I believe the CD version was issued right when CD's were just starting to give cassette's and vinyl album's a run for their money in the mid '80s. I don't believe the CD remained in print for too long, though. The shirt that Ray's wearing was part of the fashion in country music during the early '80s. He wore this shirt in an episode of
The Fall Guy
, a 1980's action-adventure show starring Lee Majors. He didn't wear it throughout the entire episode, though, but he definitely wore it toward the end of the program while on stage. Charlie Daniels and Dottie West had cameos in the episode entitled
The Pirates of Nashville
. Ray had joined Mercury Records by the time the episode was taped. He performed "
Piece of Paradise Called Tennessee
", one of the songs on what turned out to be his lone Mercury album,
Me
.
The 1983 album was released late...according to what little research I'd been able to come up with it wasn't really promoted much outside of the usual publicity stops for country singers during that time period. Even more difficult is finding articles, write-up's, or reviews of the
Me
album. I was able to track down a publicity ad for the album appearing in an early 1984 newspaper but for the most part this album went by 99% under the radar. There was one chart hit from the album...the emotional tribute to fathers called "
My Dad
" from the pen of Dale Gonyea...but that was it. I'll bet a lot of Ray's fans don't own this album. You can often come across it for sale on eBay...that's where I bought my copy years ago. It's the last album Ray issued prior to his joining MCA records and becoming a country comedian full-time. In other words
Me
was the last album from him for several years to feature non-comical, mainstream music. Once Ray joined MCA in 1984 and became a million seller with his comedy albums the writing was on the wall and comedy would become his main focal point from that time forward.