Good Wednesday morning all the Ray Stevens fans out there! This time around we mostly focus on a new video upload of Ray having a great ol' time at a Tea Party rally.
Uploaded on You Tube yesterday by a member named
BransonRadioLive
comes this video clip of Ray Stevens from the Tea Party rally that was held in Branson, Missouri this past Saturday. The actual date was October 23, 2010. This was also the day that he wrapped up his concert series at the Welk Theater.
Wasn't that great??? I liked the way he addressed the song, "
Throw the Bums Out!
", by making it clear that there's good and bad politicians...and that the song is dedicated to those bad ones. I liked the joke about the word "politics". I liked the video, of course, and here's hoping Ray continues to appear at various Tea Party-themed rallies for quite some time to come.
The mid-term elections are inching ever so close...next Tuesday will be here before anyone knows it: November 2, 2010. In my opinion
We The People
, the CD that Ray issued back in the early part of this year, would make a great Christmas gift for the politically-oriented in your family. Actually, one doesn't really have to be a political junkie to be entertained by the songs. Many of the songs on the CD state common sense solutions and it's this "common sense/everyday man" approach that allows the CD to be entertaining and political/patriotic at the same time.
But, I will say that hard-core leftists, liberals, and or progressives probably won't be too happy after giving this CD a listen...I'll go further and say the liberal-progressives probably won't even listen to the CD's opening track all the way through before they start seeing red. So it's best if given to somebody that leans center-right politically. In other words it's the perfect gift for the conservative and Tea Partier in your family.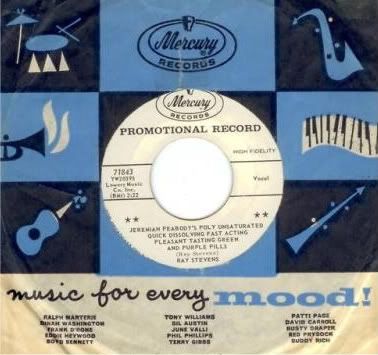 Let's back up 49 years...yes...that's not a typo! It was 49 years ago that Ray Stevens hit the national Hot 100 for the very first time. 1961 saw the release of a comical song with a rather strange title. We come to call it simply "
Jeremiah Peabody
" or "
Jeremiah Peabody's Green and Purple Pills
". The full, complete, official title is "
Jeremiah Peabody's Polyunsaturated Quick Dissolving Fast Acting Pleasant Tasting Green and Purple Pills
". Ray had been issuing singles since 1957 but this is the first one that hit the Hot 100...even reaching Top-40 status. Next year the single, of course, will celebrate it's Golden Anniversary...50 years of Jeremiah Peabody! The single was released in July of 1961 and reached it's Top-40 peak in September. And so, next year around July 2011, I'll throw a party for the single's Golden Anniversary.