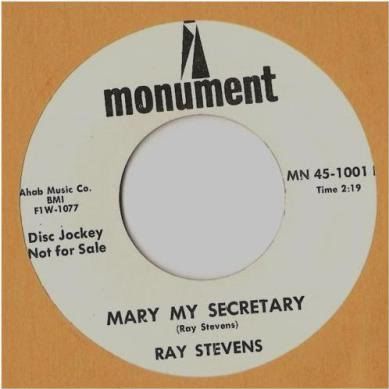 In part 1 of this blog I mentioned that "
Unwind
" was the fifth single release from Ray while on Monument Records. The previous single, "
Mary, My Secretary
", came along late in 1967 as a sort of precursor to "
Mr. Businessman
". In the secretary song Ray sings about the wandering eyes inside an office setting as a man can't fight his feelings for his secretary. The reason I say it's sort of a precursor is because as you can see Ray wrote the single...Ray wrote a lot of his songs during the '60s and '70s. But anyway...the poppy, bouncy "
Mary, My Secretary
", hinted at the deadly serious social commentary of "
Mr. Businessman
" the following year. "
Mr. Businessman
" was the breakthrough single that Ray had been waiting for...at long last he enjoyed a Top-40 single that wasn't comical or silly. This recording, in addition to "
Unwind
", were the focal points of Ray's 1968 debut album on Monument,
Even Stevens
.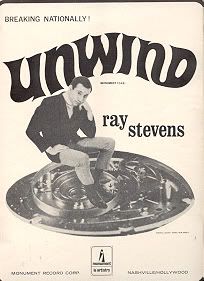 The b-side of "
Mr. Businessman
" was the somber "
Face the Music
" while "
For He's a Jolly Good Fellow
" was the b-side of "
Unwind
". The album featured quite a few pop ballads and a couple uptempo numbers. Ray wrote or co-wrote 9 of the 10 songs on the 1968 album. The lone song that Ray didn't write was "
The Earl of Stilton Square
". This particular song was written by Tupper Saussy. "
The Great Escape
" was released as a single later on in 1968...it's b-side, "
Isn't It Lonely Together?
", charted R&B for Ray but became a bigger hit for another singer, O.C. Smith. The album's opening track, "
The Minority
", later appeared as a b-side on a future single from Ray in 1969. As most readers of this blog are aware...I don't play favorites that much when it comes to Ray Stevens songs. I generally like all of the songs he's recorded and so I don't pick favorites. I typically say things like "all of them are favorites!!". I didn't post as many visuals as I wanted in my previous blog because I was running late and as a result part 1 was so short! So to make up for that I've added some visuals and obviously have added much more detail in part 2.
Now, after having some commercial success with non-comical material Ray stepped back into the comedy vein once more with the release of "
Gitarzan
". This particular single not only reached the Top-10 on the Hot 100 but it became a million seller and a worldwide hit. The song is based on Tarzan and Jane as if the couple were a husband-wife pop duo. The pet monkey is in on the act as well. The song was written deliberately with a lot of end rhymes and performed in up-tempo fashion. Bill Justis is credited with coming up with the title...while Ray wrote the lyrics. An entire all-comedy album was forthcoming...it featured several cover songs as Ray paid tribute to the Coasters, a group he is fond of saying were big influences. The all-comedy album, Gitarzan, would feature one more single. "
Along Came Jones
" was a hit for the Coasters in 1959 and now 10 years later it was a hit all over again for Ray. The single reached the pop Top-20 as Ray added some new touches to the song...Ray performed not only Salty Sam's dirty laugh and threats of violence to Sweet Sue but he also performed Sweet Sue who spent most of the time hollering and carrying on hoping her hero, Jones, would come to the rescue in the nick of time. The original by the Coasters lacked the wailing of the victim and the dirty laugh. The rest of the songs on the album range from originals to more covers. He covers "
Alley Oop
", "
Mr. Custer
", "
Little Egypt
", and "
Yakety Yak
". It was certainly a Coasters salute alright! One of my favorites is "
Sir Thanks a Lot
", a spoof of Camelot and the Knights of the Round Table. Ray became a recurring guest on Andy Williams' weekly television program around this point in time.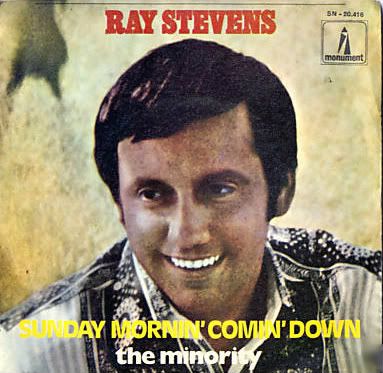 Ray ended 1969 going back to being a non-comical artist once more with the release of "
Sunday Mornin' Comin' Down
"...a song written by then-newcomer Kris Kristofferson. Ray's performance entered the country music charts...marking his debut on the country charts. It reached the Top-60 there...although there was no real serious push in the country direction until quite a few years later. Nonetheless Ray was becoming a presence on the pop, country, and easy-listening charts and this would continue through the mid '70s. Ray's final album for Monument Records arrived in the form of
Have a Little Talk With Myself
. This album featured mostly cover songs...there were a few originals...but most of the album was made-up of Ray's versions of other hit songs. The exceptions were the self-written title track, "
Have a Little Talk With Myself
", plus the self-written ode to family life, "
The Little Woman
". As mentioned "
Sunday Mornin' Comin' Down
" at that time was considered a brand new song as well. In fact, the picture sleeve used for that single is the same picture used for the 1969 album. Elsewhere, Ray covers the Beatles in the form of "
Hey Jude
", "
Help!
", and "
The Fool on the Hill
" and there is also Bob Dylan's "
I'll Be Your Baby Tonight
".
The material on this album is heavy duty and a fabulous trip back in time for modern-day listeners. "
But You Know I Love You
" was a 1969 hit for the First Edition, a group that included the song's writer, Mike Settle, along with future country singer Kenny Rogers. The song made the rounds that year and saw another hit recording of the song by Bill Anderson. Years later Dolly Parton would have another hit with the song. Ray never issued his version as a single. A further cover song on the 1969 album is "
Spinning Wheel
" and it, too, was a hit the very year this album was released...the group that had a hit with it in 1969 was Blood, Sweat, and Tears. As far as singles are concerned there weren't any Top-40 hits...but there were a couple chart hits: "
Sunday Mornin' Comin' Down
" hit the country Top-60 while the title track, "
Have a Little Talk With Myself
", hit the country charts as well. A third single release, "
I'll Be Your Baby Tonight
", backed with "
The Fool on the Hill
", didn't reach the charts. As I earlier mentioned...Ray had become associated with Andy Williams and had appeared on Andy's television program several times in 1969 and at the start of the new decade Ray would soon find himself even more professionally involved with Andy Williams...a change in record labels was first and foremost, from Monument to Barnaby Records, and then Ray was picked to host a replacement television show for Andy which would air in the summer of 1970.
...And with that this concludes the examination of Ray's stay with Monument Records! Those who are avid collector's of singles are likely to find 45 rpm's for sale on eBay and a site called Music Stack. I hadn't purchased anything from the latter web-site but it's a site I came across several months ago and they sell vinyl albums and singles in addition to CD's and other recorded music related items. Ray worked with the likes of Fred Foster and Jim Malloy while at Monument...on the back of Ray's
Have a Little Talk With Myself
album there's a picture of Ray laughing with Malloy in the recording studio.