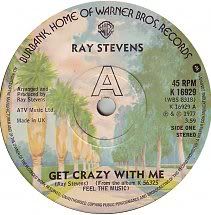 As if it needed to be said...we're all crazy for Ray Stevens!! I'm one of the hundreds of thousands of people who wishes to be in Branson, Missouri seeing his acclaimed performance at the Welk Resort Theatre. Obviously with it being so far away I'm living the experience through the write-up's and pictures that have popped up...and I'm especially going to get my order in right away as soon as a DVD goes on sale of his concert. The news broke a few days ago that Ray will be taping some performances at the Welk Theatre and earlier today the news broke that the taping would take place during the October 8th and 9th performances. This means that those who are in attendance during those days will have a good chance of being caught on tape whenever the camera pans over the audience. The story that broke the news that Ray would be taping portions of his concerts is located here...
Ray Stevens Enthusiastic Branson Crowds
The last time concert footage of Ray in Branson surfaced in video form was back in 2005 when he participated in a fundraiser/telethon for Hurricane Katrina victims. The program was officially titled
Branson Cares Telethon for Hurricane Katrina Victims
and it aired regionally on September 18, 2005 but it also had satellite coverage as well and so millions of people saw the telethon. He performed "
Everything Is Beautiful
" after delivering commentary about the devastation of hurricane's to the geographic locale that he considered part of his youth and upbringing. The video clip of his introduction and his performance of the song is available on You Tube but it wasn't uploaded by Ray's people.
Prior to this you'd have to go back to 1993 when
Ray Stevens Live!
and
More Ray Stevens Live!
were brand new. Those two home videos are part of that home video boom that was happening for Ray in the early and mid 1990's.
Ray Stevens Live!
would eventually sell a million copies and remain on the Billboard Video Chart for months on end.