I thought it would add some dimension to the blog if I post my Tower of Stevens once again. I posted this many blogs ago but I decided to bring it back. It's a cassette tape tower and on that side of the tower it's my Ray Stevens cassettes. I have much of that material in CD or Mp3 format now and so I don't hardly listen to the cassettes anymore...I just have them for collection sake. The same holds true for my Ray Stevens vinyl albums and 45 RPM singles...I don't play those vinyl albums and singles hardly at all but nonetheless I have them as part of my collection. I'd never part with anything, either! All of my Ray Stevens items are absolutely, 100% priceless. I say that in case anyone out there gets any ideas that I'm someone that likes to sell or trade and the answer is: NO! I'm a collector of Ray Stevens merchandise and therefore I keep everything I've bought through the years. I believe you can click the image for a bigger view but don't quote me on that. The original size of that particular image is way too big for this blog page and so I had to re-size it. I have more Ray Stevens items as I mentioned...vinyl and CD and now Mp3. I also have a few magazines with him on the cover and a couple of magazines with write-up's on his career.
Country Weekly
did some wonderful stories on Ray in the mid '90s and they also did a story on him late last year or earlier this year. The story was about his longevity and how active he continues to be.
Country Weekly
subscribers voted Ray their favorite comedian in 1995 during the Golden Pick awards. The magazine did a fabulous, in my opinion, write-up promoting his
Get Serious!
movie complete with still pictures from the film and commentary from Ray on the set. A year later they did a write-up about his hugely successful home video career and it shown his face popping through a pile of money. The money, of course, was a sight-gag from the movie.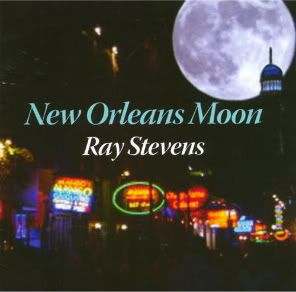 A collection that I've written about before is this 2007 masterpiece,
New Orleans Moon
. The CD features Ray covering a lot of material associated with Louisiana and New Orleans culture. The title track, "
New Orleans Moon
", is the only original song in the collection. This ode to New Orleans was written by Ray and Chuck Redden. The rest of the material that Ray covers originated decades earlier by other artists...namely Louis Armstrong. Ray's versions of "
Jambalaya
" and "
The Battle of New Orleans
" are great as are "
Louisiana Man
" and the somber "
Louisiana
". Aside from those stand-out tracks we also have "
When The Saints Go Marching In
" which just about everyone has heard at some point or another. I sang this song in elementary music class but the arrangement was not quite like Ray's version of the song! The rock song, "
New Orleans
", is another stand-out. Ray slips in a quick vocal impression of Louis Armstrong on "
New Orleans Moon
" when the lyrics reference "Ol' Satchmo". Those who have never heard of this CD and are at least interested should go and get your copy and listen to it. It's a great salute to that part of the country and it's filled with reverence as well. It was released in the summer of 2007 but wasn't promoted as strongly as it should have been.
1. Way Down Yonder in New Orleans
2. New Orleans Moon
3. Basin Street Blues
4. When the Saints Go Marching In
5. St. James Infirmary/Just a Closer Walk with Thee
6. Jambalaya
7. Louisiana
8. Louisiana Man
9. New Orleans
10. Battle of New Orleans
11. Do You Know What It Means to Miss New Orleans