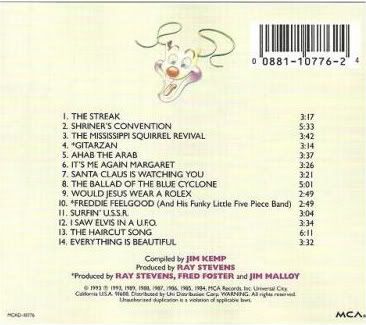 One of the things that has puzzled me for awhile are why a lot of the compilations that have been issued on Ray Stevens...why a lot of them don't credit each and every year that a song selection was taken from. This is just one example. This is the flip-side of the
Collection
CD that MCA released back in 1993. There are 14 tracks and they're listed at the end of this blog entry. The credits show that the music on the CD comes from the years of 1984 through 1989. However, why doesn't it give credit to the years of 1980, 1974, 1970, and 1969? Also, it credits the year, 1986, even though there isn't any song on this collection from that year. It's inclusion in the credit list is baffling to me. This isn't something that just happens on Ray Stevens compilations, though. I've noticed that it happens on other artists as well. It's not a question that I must have an immediate answer to but it's something I've always been curious about. There are also compilations that don't even offer copyright years except for the current year of release.
A compilation from the past entitled
Collector's Series
was issued on Ray in 1985. RCA is the label that issued the collection and nowhere in the credits does it indicate when the material was recorded...it only shows that the collection was released in 1985. Fortunately being a big Ray Stevens fan I know the years of each of the eight songs on that collection...but if I weren't as knowledgeable about his music I wouldn't have a clue when the material was recorded. I know this isn't something that's a big deal for a lot of people but I'm just quirky enough to have those kinds of curiosities about the music I buy. On the
Collection
CD they include a couple of later MCA recordings that seldom get spotlighted: "
Surfin' U.S.S.R.
" and "
I Saw Elvis in a UFO
". Each recording is from 1988 and 1989 respectively. "
Gitarzan
" is from 1969 as is the version of "
Ahab the Arab
". "
Everything Is Beautiful
" is from 1970 and "
The Streak
" is from 1974.
1. The Streak; 1974
2. Shriner's Convention; 1980
3. Mississippi Squirrel Revival; 1984
4. Gitarzan; 1969
5. Ahab the Arab; 1969 (re-recording of his 1962 hit)
6. It's Me Again, Margaret; 1984
7. Santa Claus Is Watching You; 1985
8. The Ballad of the Blue Cyclone; 1985 (radio edit version)
9. Would Jesus Wear a Rolex?; 1987
10. Freddie Feelgood; 1966
11. Surfin' U.S.S.R.; 1988
12. I Saw Elvis In a UFO; 1989
13. The Haircut Song; 1985
14. Everything Is Beautiful; 1970