I had a feeling that the T-shirt that I ordered from Ray's web-store would arrive in the mail today and sure enough it was there!! I placed the order on December 18th because there was some kind of order deadline of December 21st...I assumed that after this date there wouldn't be any shipments sent out until the first of the year. As I commented on in a previous blog, the web-store at Ray's web-site was in the middle of a Christmas sale and the T-shirt I wanted was marked down to $8.00 and so I ordered one real quick. The marked down T-shirt, with
Great Awakening Tour 2010
written across the front, is a companion piece with an earlier T-shirt which is also available.
While exploring the internet I came across some additional chart information for several Ray Stevens singles. These chart stats are from international music charts and there are quite a few singles that did better overseas than they did in America. Research shows that Ray's 1963 single, "
Funny Man
", was a Top-15 hit in Canada. "
Harry the Hairy Ape
" reached the Top-30 in Canada the same year. "
Unwind
" reached Canada's Top-20 in 1968 and "
Mr. Businessman
" reached the Top-10 in Canada and the Top-25 in Australia. "
The Great Escape
" is a single that Bubbled Under here in America but it charted in Australia's Top-30 in 1968. This particular single is from Ray's debut album for Monument Records,
Even Stevens
. The label issued a promo for the single and I've included the image below...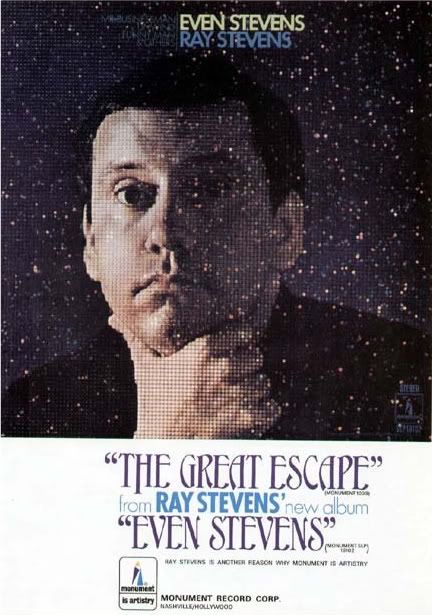 The song is great, in my opinion. It has a driving beat and it's one of the more rocking type songs on the album. The song's about a man who works in the city at a job he apparently doesn't like and the thing that keeps his motivation running is the reality that soon he'll be home, away from the hectic city life, and be with his wife. This theme of a hectic life verses the quiet life was also a big part of his "
Unwind
" single which is also on
Even Stevens
. Social commentary was abundant on the 1968 album...not only with "
The Great Escape
", "
Unwind
", and "
Mr. Businessman
" but also with "
The Minority
" and the seldom mentioned but amazing "
Isn't It Lonely Together?
" which depicts a couple dealing with an unexpected pregnancy and the marriage between the two that came as a result. The song has a clear social message as do the other songs I mentioned but somewhere along the line "
Isn't It Lonely Together?
" got lost in the shuffle. The more liberal of Americans who hear this song may wonder "big deal! raise the child on your own or get an abortion if it's a mistake!" or "don't get married...be a single parent.". Those who have opinions like those will obviously not enjoy the masterpiece that's "
Isn't It Lonely Together?
".
a different angle of the T-shirt...