Unfortunately my scanner couldn't get the entire image scanned...the magazine title,
Cashbox
, disappears at the letter, X. This is a chart publication, a competitor of Billboard, and this is the June 15, 1974 issue. The picture of Ray is the same one used on the commercial single of "
The Moonlight Special
". However, that particular single hadn't been issued when this magazine was released. In spite of the cover shot there's only a short column about Ray and it deals with "
The Streak
" which was sitting in the Pop Top-5, having already reached it's peak position. The column ends with a reference to Ray's follow-up, the aforementioned "
The Moonlight Special
". I had purchased this on eBay several years ago and was hoping for a much more in-depth write-up and so I was slightly disappointed that the write-up was basically the size of a newspaper column. I got lucky, though, because not long after this purchase I came across the July 4, 1970 issue of
TV Guide
...this is the issue which features a write-up about Ray.
This write-up came about thanks in large part to Ray being the host of Andy Williams' television show during the summer months. The name of the article is "
Who Is Ray Stevens?
". The article ties in with the inside joke about Ray's low-key demeanor and how in spite of having several million selling hits that the public at large still had no idea who Ray Stevens was. The cast of
The Courtship of Eddie's Father
was on the cover that week...the mailing label of who previously owned the issue is still on the magazine and so I blotted out the address and the name. I purchased this TV Guide, as I mentioned, on eBay. Ray's show aired Saturday night on NBC at 7:30. Looking at the program content it shows that Ray performed "
Freddie Feelgood
", "
Games People Play
", and a couple of songs I'd never heard of: "
I Got a Woman
" and "
Hi-Heel Sneakers
". The cast sing "
Reach Out in the Darkness
".
Country Song Roundup
with Ray on the cover. The issue was released in 1977 and it ties in with his single at the time: "
Get Crazy With Me
". In the interview the author writes about Ray's past and present. This was during the era of his career where he concentrated on having success with non-comical recordings and in interviews he'd often downplay the comedic aspect of his career in favor of the serious, thought-provoking artist he wanted to be known as. Ironically, though, 1977 kicked off with his chicken clucking version of "
In the Mood
" which had been released late in 1976. If one examines Ray's career you'll realize just how many non-comical songs he recorded...during the entire decade of the '70s, for example, he released just one album devoted to all-comedy: 1974's
Boogity-Boogity
. This means that all of his other studio album releases were of a serious nature. Late in 1970 and into 1971 he had some success with the novelty song, "
Bridget the Midget
", which originally was available as a single-only.
This is a souvenir booklet that was issued in 1977. Included are pictures of Ray from the early '70s as well as the mid '70s. It also includes a promo section for pop singer, Del Shannon. One of the pictures shows Ray seated on a carousel...while another shows him decked out in the white jump suit that he wore on the
Misty
album. I'd written about this booklet before...I've written about pretty much all of these magazines already but never in one all-encompassing blog. I actually don't have that many magazines with Ray Stevens coverage but I'm showing images of some of the magazines that I've got in my collection. I've got some
Country Weekly
issues with write-up's about Ray...but would you believe that he's never appeared on the cover of any
Country Weekly
issue?
In this April 1979 issue of
Country Music Magazine
the article about Ray is the third promoted item on the cover. Johnny Cash, of course, is the cover subject. Charlie Rich is spotlighted in an article by Bob Allen. Ray's write-up is written by John Pugh...on the magazine's cover it refers to Ray as
The Mad Genius of Music Row
. The write-up doesn't necessarily spotlight any current recordings or promote any albums but instead spotlights a career over-view and goes into detail about his recording studio talents and he gives his philosophy on recording songs and how emotionally attached he is to life in the recording studio. The author compares and contrasts Ray's over-joyous attitude toward Nashville and the music industry with the attitudes expressed by other artists who don't come away with the same enthusiasm toward Nashville. Some writers/critics through the years have said that Ray is like a kid in a candy shop when he's inside his recording studio. Ray, of course, produces and arranges his own songs and at one time wrote a majority of his own material. When you have an artist that approaches things as a producer would then it's very easy to see the contrasts between Ray and other artists in country music...or music in general. I think if singers double as their own producer or have some sort of impact on the creative and technical side of their careers, instead of just showing up at a studio and singing, it enables the singer to develop this same sort of affection toward making music as Ray has always demonstrated in his interviews through the decades.
In this 1980 issue of
Country Song Roundup
the big news was centered around Ray's hit single, "
Shriner's Convention
". The cover story,
More Than Meets the Ear
, deals with Ray's often over-shadowed talents due to the enormous popularity of his comical recordings. An entire music audience laughing at Ray's comical songs are typically unaware of just how serious of an artist Ray is...even fewer know of his behind-the-scenes talents as a musician, producer, arranger, and writer. This write-up, much like the write-up's in 1979 and 1977, tried gallantly to give exposure to the many styles of music that show up on a typical Ray Stevens album. The most telling aspect of the write-up came mid-way through the article where Ray let it be known that while he's having success with the comical song that he has no intentions of abandoning serious material. He certainly kept his word because the albums he issued in 1981, 1982, and 1983 were all non-comical.
In this particular October 1979 issue, as you can see, Dolly Parton is on the cover. There's a write-up about Ray in here called
Help Me, Ray Stevens
. This promo/write-up was based on Ray's single on Warner Brothers, "
I Need Your Help, Barry Manilow
", which hit earlier in 1979 but was still being promoted as his current single when this issue was released. The write-up is lengthy, as far as write-up's go, and it offers a lot of quotes from Ray where he gives his opinions on the music industry and how anyone can be successful if they have the right promotion team. He remarks that a lot of songs become 'hits' simply by being promoted a lot and psychologically it causes a consumer to purchase the song through repetitious promotion. He also remarks that there are other kinds of 'hits' that don't sell an incredible amount immediately but strike a chord with consumers and eventually become big sellers over the course of time. Ray comes across neutral in his opinions over the different types of hit songs leaving it up to the reader to come to their own conclusions...in a sense the Ray Stevens belief system of 1979 when it comes to having hit songs is very much similar to modern-day 2010 Ray Stevens. There's also mention of his hectic TV show appearances which included taping episodes of
Merv Griffin
,
Mike Douglas
, and
The Tonight Show
. The author of the write-up hints of an upcoming all-comedy album from Ray...referring, perhaps, to the
Shriner's Convention
album of 1980. If you remember, "
Shriner's Convention
" was released as a single very early in 1980 and there's always been the possibility that the song was already written and recorded well before the public at large heard it. Obviously there was a change in record labels, though, from Warner Brothers to RCA by the time the Shriner song was released. A performance on a 1979 episode of
Pop! Goes the Country
showcases "
Shriner's Convention
" but, ironically, Ray opened the show singing his 1976 hit, "
You Are So Beautiful
".
In this 1986 issue of
Music City News
we're a couple of years into Ray's exclusive country comedy approach. Ray, in late 1984, decided to shift gears and go all-comedy upon signing with MCA. His debut album for the label,
He Thinks He's Ray Stevens
, would eventually reach the Country Top-5 and sell over a million copies [
Platinum
] in the process. This was followed up late in 1985 with
I Have Returned
which hit #1 on the Country album chart and would eventually be certified Gold for sales of over 500,000. He was in between comedy albums when this 1986 issue of
Music City News
was released and the write-up went into detail about his career decisions and the choice of going all-comedy after years of attempting to gain mainstream acceptance as a serious, non-comical performer. In a lot of ways Ray
did
have his share of success with non-comedy songs but when you compare the overall sales and popularity of the non-comical verses the comical it clearly shows that the comedy has always reigned supreme. The story,
There's Something Funny About Ray Stevens
, examines that relationship between the non-comical and comical sides of Ray and how the most commercially successful won out. 1986 would be the first year that Ray won the
Comedian of the Year
award from the
Music City News
readers. He won this particular fan-voted award in 1986, 1987, 1988, 1989, 1990, 1991, 1992, 1993, and 1994. Also on this cover are two of my other favorite singers: George Jones and Conway Twitty.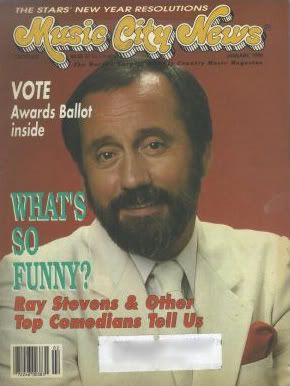 This January 1990 issue of
Music City News
was the magazine's annual New Year's issue. Inside a lot of artists gave their predictions for 1990 and a lot of New Year's resolutions were addressed. This issue also focused on the country comedy acts...with Ray leading the pack. In the write-up it examines the various performers in the country comedy field and each comic gives their opinions of what's funny and what style of humor best suits them and their audience. Ray, by far, was the most commercially successful of the acts and he was also the most legitimately skilled as a singer whereas the other comics spotlighted were traditional stand-up comedians who used country and southern culture as part of their act. By the time this issue was released Ray had been the recipient of the
Comedian of the Year
award four consecutive times: 1986, 1987, 1988, and 1989. The
Music City News
awards were held each June.