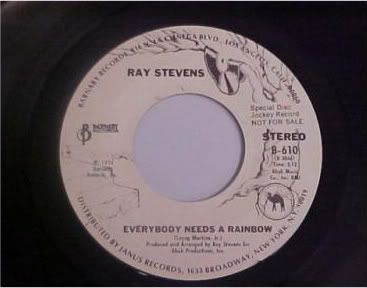 In this edition of the Nostalgia Valley we visit the next to last week in November 1974. This was the week that Ray Stevens entered the Adult-Contemporary charts with his elegant single, "
Everybody Needs a Rainbow
". The song was one of the several cross-over hits in the career of Ray Stevens as it hit both on the Adult-Contemporary and the Country music charts. It debuted on the country music charts this very week back in 1974. The pace of a hit country single is somewhat slower than the pace of a pop single. In pop music, then and now, singles consistently leap-frog up the charts. One week a single could be at #34 and the next it could be up to #22 and then up near the Top-10 the following week, etc etc. In country music, singles don't usually have that kind of rapid chart action. One week a single could be at #34 and the next it could rise up to #30 or only move up one place, to #33, and then during it's 4th or 5th week it continually moves up the charts that by week 10 or 11 it's nearing the Top-10 (if it gets that far, that is!)
I bring this up because "
Everybody Needs a Rainbow
" debuted on the Adult-Contemporary charts a week before it's Country music debut...but it reached it's Adult-Contemporary Top-20 peak before the end of the year. During the same chart span over on country radio the single didn't reach it's peak position until January 1975. The single was charted for the same number of weeks on both music formats but yet it took awhile longer for it to reach it's peak position on country radio. This particular inspirational single was written by Layng Martine, Jr. and it was only available as a single-only. Layng wrote several songs that Ray recorded through the years: "
Piece by Piece
", "
Put It In Your Ear
", "
The Flies of Texas Are Upon You
", and more recently, "
Rub It In
". Yes, the same song that Billy "Crash" Craddock had a hit with. Ray did his version of the song in 2008 and it's on the
Hurricane
CD. Ray has a history with "
Rub It In
"...he produced a version of the song which was recorded by the writer, Layng Martine, Jr., in 1971. According to Ray, the record label rush-released the song but the timing wasn't correct and it didn't become a real big hit. Later on, Craddock recorded the song and it became a huge hit for him in 1974. Craddock's version was produced by Ron Chancey.
The B-side of "
Everybody Needs a Rainbow
" is "
Inside
", which is another song in the same inspirational vein, but "
Inside
" was written by Ray.
As today is December 1st I thought I'd post a side-by-side picture of myself and a 1985 picture sleeve of Ray Stevens...as you can see it's "
Santa Claus Is Watching You
". The B-side of the single is "
Armchair Quarterback
". Each of these songs were taken from
I Have Returned
, the comedy album Ray issued in 1985. The album would eventually reach #1 in the spring of 1986. Those of you seeking out Ray Stevens holiday material look no further than his web-site store. You can purchase his 1997 all-comedy Christmas CD...which is titled
Christmas Through a Different Window
...and you can get his 2009 all-serious Christmas CD titled
Ray Stevens Christmas
. You can get both of those CD's plus a single DVD of his music video, "
Nightmare Before Christmas
",
here
. The music video, by the way, has gotten 39,520 You Tube hits in a little under a month. Ray hasn't pushed the music video as heavily as he does the political releases and so that's why it's nearing 40,000 hits in a month's time whereas many of his other You Tube releases have gotten well over 100,000 hits within a month's time. A couple of days ago Ray left a message on the social network site, Twitter, that he'll be returning to the studio to work on 10 new political comedy songs. I assume these new songs will start to trickle out at some point next year. This month marks the 1 year anniversary of "
We The People
" being uploaded on You Tube...maybe later this month a new political comedy song/video will emerge?