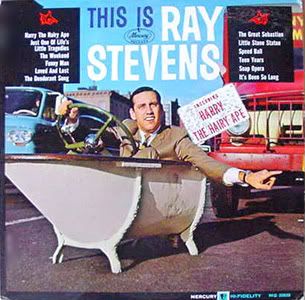 The second album from Ray Stevens,
This is Ray Stevens
, came along in 1963. The album features quite a few tracks...a couple of them became hit singles for Ray and there was more non-comedy featured in this collection, too, in spite of the comical album cover of Ray sitting in the bathtub. The hit singles on this album included "
Harry the Hairy Ape
", which hit the Top-20 on both the Pop and R&B charts. "
Speed Ball
" reached the Top-50 on the pop chart and the Top-30 on the R&B chart. "
Funny Man
" was also issued as a commercial single as well. It charted in the lower portion of the Hot 100 even though it's considered by many fans of Ray's to be one of his best vocal performances from that era.
This is Ray Stevens
was re-issued several years later and much of the material on this album was lifted for the 1970 compilation,
The Best of Ray Stevens
. It's my guess that Mercury Records issued that 1970 album to showcase the material he recorded for them due to how hugely successful he had become by 1970. In a way it was as if Mercury was saying "hey, folks, Ray used to make records for us...take a listen!!". They had previously released a similar compilation album on Ray in 1968 featuring a few more songs from 1962...while the 1970 release focused largely on his 1963 recordings. The liner notes for the 1970 compilation mentioned the then-recent job Ray had of hosting Andy Williams' summer television program. This role took place during the summer months of 1970...so
The Best of Ray Stevens
was rush released apparently given how up to date the liner notes were. Typically liner notes are written months in advance...in some case a year in advance.
The 1970 compilation features several single-only releases: "
Santa Claus Is Watching You
" was originally a hit single for Ray during the holiday season of 1962. It features entirely different lyrics and marketed specifically for children...years later in 1985 he re-wrote the song but kept the same title, obviously, and kept the same catch-phrase of "
he's everywhere!
". "
Butch Babarian
", a single telling the story of a mountain climber who liked to yodel, and then "
Bubble Gum the Bubble Dancer
" about a burlesque star, rounded out the three single-only releases found on the 1970 compilation album. The b-side of "
Butch Babarian
" is a love ballad called "
Don't Say Anything
" which is a variation of the
I'm in love with you even though you may not feel the same way
theme. The single was released in 1963...the following year saw "
Bubble Gum the Bubble Dancer
" make it's commercial debut. Although the single was issued in 1964 it was recorded at some point during 1963. The song combines the innocence of bubble gum with the exotics of a bubble dancer who goes by name Bubble Gum. It's b-side is "
Laughing Over My Grave
" which has a Halloween style arrangement and the song deals with a man coming to grips with the vindictive possibilities of an enraged lover. Neither b-side have made their way onto any LP, cassette, or CD.
Ray, in the meantime, joined Monument Records by late 1963 but Mercury continued to issue singles on Ray through 1965. Ray's first-ever single on Monument didn't come until three years into the contract in 1966...a mid-tempo single titled "
A-B-C
". The arrangement and overall feel of the song was much different than the sound of his Mercury recordings and it set the stage for the eventual image make-over which reached it's desired effect in 1968. Ray Stevens fans, such as myself, are generally insulted by the fact that Ray's Monument era in only remembered for it's final two years, 1968 and 1969, while the 1966 and 1967 recordings go under the radar. Those 1966 and 1967 recordings are scarce...a few of them made their way onto CD when Varese Sarabande re-issued Ray's 1968 album,
Even Stevens
.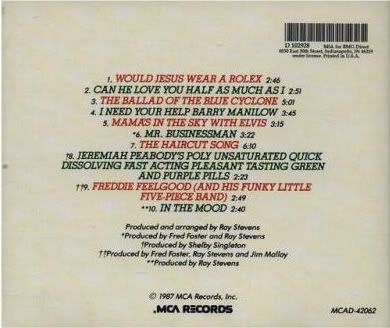 Next year we'll be coming up on the Golden Anniversary of Ray Stevens' first national hit, "
Jeremiah Peabody's Green and Purple Pills
". 2011 will mark 50 years since the release of that single...originating back in 1961 on the Mercury label. It was the first single from Ray to make the national music charts...reaching the Top-40 of the Hot 100. Earlier singles from Ray, dating back to 1957, didn't chart nationally and were not widely distributed. As you can see from the back of 1987's
Greatest Hits, Volume Two
the single's full title is rather lengthy. Instead of shortening the song's title for single releases Mercury actually wrote the full title on the 45's that they released. The print type, of course, was much smaller to get the full title on the single. It's my guess the full title was always used either because it was the actual title of the song or it was deliberately used for comic effect. "
Jeremiah Peabody's Polyunsaturated Quick Dissolving Fast Acting Pleasant Tasting Green and Purple Pills
" as you can see is the song's complete title. The 1987 collection marked the debut of "
Mama's in the Sky with Elvis
"...this was at the time an exclusive, newly recorded song available only on the Volume Two hits collection. A year later, though, it was added to his 1988 album,
I Never Made a Record I Didn't Like
.
The next few years, 2011-2012, will especially be golden for "
Ahab the Arab
" as well. That particular single debuted in 1962...meaning that during the next election cycle in America "
Ahab the Arab
" will turn 50. The single reached it's 40th anniversary in 2002...ironically taking a back seat to Ray's current hit single at the time, "
Osama Yo' Mama
". It was purely coincidental though that during Ahab's 40th anniversary in 2002 Ray would be lyrically exploring the middle east once more but this time with a real, non-fictional target brought about by the September 11th terror attacks in 2001. 2012 being the 50th anniversary of "
Ahab the Arab
" I'd assume there will be some commentary of some sort about the song in blogs and other information sources.
I won't say all the commentary will be nice and positive given how the song's ethnic humor is in sharp contrast to the politically correct advocates who seem to have a stranglehold on society. If I'm still writing this Ray Stevens fan-created blog two years from now you all can rest assured that I'll probably be one of the very few bloggers who'll spotlight the song in a positive light. As most of you know I'm not a fan of political correctness. While I don't advocate the idea of being mean-spirited and hateful just for the sake of being mean and hateful I do recognize that the super-sensitive need to grow thicker skin and realize that just because they may have an accent or may have some kind of ethnic and cultural difference it doesn't mean that they're exempt from being satirized or mocked. Everyone should be fair game if the situation calls for it. The idea that accents, social or political opinions, personal appearance, sexual preference, and whatever else should be off-limits because of the potential that someone will be offended is, and always will be, ridiculous in my opinion.
The latest from Ray Stevens, "
God Save Arizona
", is sitting at 191,256 hits on You Tube. I hope you all don't get tired of seeing these updates...I do them because this blog is all about Ray Stevens and even though I write a lot about his past hits and the things he recorded awhile ago I of course want to highlight the current material as well. Some people unfairly want to focus exclusively on Ray's earliest recordings and ignore anything else after a certain point in time...and then there's some who want to shrug off the comedy songs and only applaud the more serious recordings...and then there's those who embrace the comedy and shrug off the serious recordings. Here's a few questions I'd like to put out to all those who are familiar with Ray Stevens but maybe aren't as dedicated to his music as I am. How about appreciating all of Ray Stevens? Why draw lines around his career and only focus on one aspect of it? Why not appreciate it all?