"
God Save Arizona
" is moving right along. As of now it's resting at 336,500 hits. Doing the math that means that it'll need 163,500 more hits to reach half a million. The pattern of late are increases of 5,000 to 10,000 hits per day and so it could vault past the half a million mark in a week or two if it keeps up this pace. Ray is currently appearing in Branson, Missouri for a 6 week run and so no doubt the song/video will be one of the centerpieces of his concerts at the Welk Theater. This could translate into more exposure and more You Tube hits.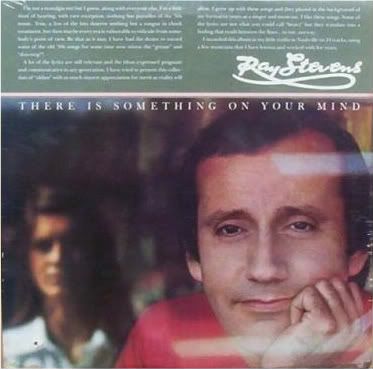 I also wish this 1978 album were to get a lot of exposure as well!! It's among the albums that Ray recorded while at Warner Brothers. I've written about this album numerous times and mentioned where some of the songs originated from that Ray covers. It's an R&B tribute album where Ray does wonderful renditions of classic early R&B hits. A lot of the emphasis is on the R&B groups of the '50s...a few of the groups were not widely known among the mainstream according to Ray's own commentary. Although you can't really see it that well Ray offers his commentary above his picture...ending his thoughts with a copy of his signature. On the back of the album there's a song by song breakdown where Ray gives his thoughts and opinions about the material and why he chose to cover each song. If you can find this album on eBay or anywhere else on-line my advice is to buy it! It's an album that you won't hear much about and some may deny it even exists...it's titled
There Is Something On Your Mind
.
Curious minds want to know is Happy Hour really the saddest time of the day? This question relates to a very funny song that Ray Stevens recorded back in 1984. The song's title is "
Happy Hour Is the Saddest Time of the Day
". I typically just refer to it as "
Happy Hour
" for short. That's me with a glass of Cream Soda...I don't drink or smoke. For those who hadn't heard the song it's about an alcoholic couple that's broken up and now happy hour just doesn't feel the same anymore. I'm certain those who oppose drinking or those who oppose making light of alcoholism won't find the song funny and will most surely consider it offensive or outrageous...but what's new when it comes to Ray Stevens? His humor isn't for everyone...even though, in my opinion, a lot of people that may take offense to his brand of comedy aren't really being reasonable toward him anyhow. "
Happy Hour
" can be found on Ray's Platinum album,
He Thinks He's Ray Stevens
.
The album was re-issued as
The Mississippi Squirrel Revival
in 1992. It was re-issued under a new name given how popular that song happens to be. The CD re-issue also came with a different picture sleeve as well. Amazon has the CD for sale but they say it was re-issued in 1995 even though my CD copy clearly states 1992 as the year the 1984 album was re-released onto CD. I have
He Thinks He's Ray Stevens
in cassette format but at the time I didn't have it in CD format and so when this re-issue became available to me I bought it. I bought my copy at some point in 1995 or 1996 simply because, as I mentioned, I didn't have that album in CD format. Today, though, with digital downloading the practice by so many you can easily buy each song from this album for ninety-nine cents and have the music downloaded onto your computer. I buy music on-line but it's only if there's no CD version available. I still like having a physical CD with the artist's picture and the songwriter and musician credits, etc etc. and so I prefer buying physical CD's but if there's none available I'll go the digital route.
Ray Stevens is on the verge of reaching 4,000,000 hits on You Tube with "
Come to the USA
". This particular music video has pulled in more hits (3,828,239 to be exact!) than "
We The People
", which currently sits at 3,597,780. In an interview right when "
Come to the USA
" had just been uploaded Ray remarked that a lot of his associates and friends felt that the video may top or exceed the phenomenal success of "
We The People
" and as you can see they were onto something. "
Come to the USA
" needs 171,761 additional hits to reach 4,000,000 exactly. I feel that the video will indeed reach that 4 million mark and it may reach that total by year's end...perhaps even by the November mid-terms.