This particular compilation album was released in 1984 and it showcased 11 songs from Ray Stevens. The emphasis was on the non-comedy songs as of the 11 featured, 7 were serious. This collection was one of many compilation albums issued on Ray Stevens...something I've written about before. The material that Ray recorded, especially for Monument and Barnaby, became widely distributed by a whole host of record labels throughout the late 1970's but specifically throughout the 1980's and into the early 1990's. The many compilations that seemed to be routine slowly came to a halt by the mid '90s. Ever since the late '90s and into the 2000's there hadn't been as many compilations released on Ray Stevens. A lot of it has to do with changes in the marketing of music where you don't have hardly any Independent labels anymore specializing in vintage material and you rarely, if ever, see labels attempt to make a quick buck from their current roster of artists or former roster members. Artists today have much more control over their music...remember, this is an era where a singer can sue their record company if the company releases material against the singer's wishes. Even though, technically, the music an artist records for a label is
owned
by that label. Years ago that kind of thing where an artist takes their label to court was unheard of...it may have gone on in private but with the invention of the internet and all sorts of other cyber-media resources it's almost impossible to keep anything private anymore particularly when you have people who seem to specialize in leaking controversial elements of any story to the media.
This 1984 compilation as you can see features 11 songs...you can always click the images for a bigger picture. The material is taken from the 1968-1975 era. The abundance of Ray Stevens compilations truly shows just how popular he is...you wouldn't have so many labels putting out Ray Stevens material if it wasn't profitable. Today, though, the lack of compilations isn't a reflection on his popularity score...as I mentioned it's just a sign of the times. The four comedy songs found on this compilation are "
Ahab the Arab
", "
Along Came Jones
", "
Bridget the Midget
", and "
The Streak
".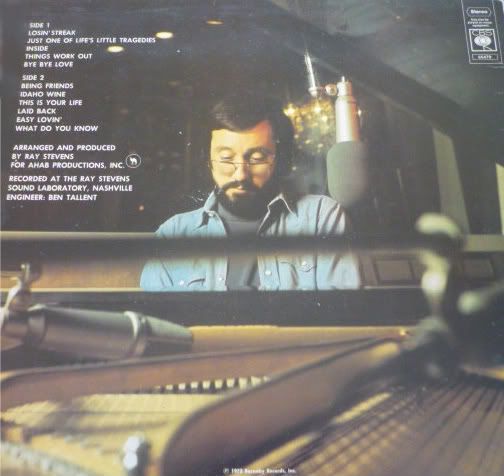 Losin' Streak
was one of two albums released by Ray Stevens in 1973. The other album,
Nashville
, is the one that was more commercially successful by comparison.
Losin' Streak
features 11 songs as well...all of the songs are non-comical. One of the recordings, "
Laid Back
", is an instrumental. Ray included an instrumental on
Nashville
as well...on that album "
Float
" is the instrumental. On
Losin' Streak
we get to hear Ray do some studio experimentation with microphone techniques and overall sound quality...according to reports I've read this was his first album recorded at his own studio which had the name of The Ray Stevens Sound Laboratory. His voice is crisp and clear...and he belts out a lot of songs on this particular collection. "
This Is Your Life
" demonstrates the experimental efforts during the post-production. "
Bye Bye Love
" is his take on the bouncy Everly Brothers pop hit...and in Ray's hands the song is transformed from a bouncy sing-a-long to a melancholy ballad.
"
Inside
" is a motivational song and one of my favorites...and then there's the clever "
Idaho Wine
" which tells the story of a mismatched couple. Ray offers another cover song, "
Easy Loving
", which was a gigantic hit for Freddie Hart in 1971. Hart had also written the song. The title track, "
Losin' Streak
", is a song about a man with a gambling problem and how it interferes with his personal life. It's a song with some rather unusual phrasing that's for sure...it was written by a writer by the name of Nick Van Maarth. It's on this album that Ray does a wonderful re-recording of an earlier song he wrote and recorded while at Mercury, "
Just One of Life's Little Tragedies
". A few words about "
What Do You Know?
"...I've never known of any songs that seriously examine the inner psyche or ponder the human mind's abilities and weaknesses as this song does. It's a song that comes off as if it was written by Sigmund Freud.
Losin' Streak
remains the only album that Ray recorded for Barnaby Records to not get a re-issue of some kind. Several years ago all of Ray's studio albums on Barnaby got re-issued except this one...and it continues to remain a mystery as to why this album is overlooked and hasn't had a proper re-issue yet.