Hello all the Ray Stevens fans! By now some of you have made your way to watch Ray's concert series in Branson, Missouri at the Welk Theatre. I've read some commentary from those who've seen the show and as I imagined early on it's a runaway success. Those who've seen the show have said that the first half is devoted pretty much to political and patriotic material...giving publicity and exposure to his
We The People
collection while the second half features the Ray Stevens classics. By the way, there's a new item issued in Ray's web-site store...it's a T-shirt which features the picture of Ray from the
We The People
CD and the new t-shirts being offered include the phrase
Great Awakening Tour 2010
. The other T-shirt features Ray in front of the flag in Founding Father costume with
We The People Have Awakened
on the front and
Throw the Bums Out!
on the back. That is the shirt that I have...I may send off for the newer T-shirt at some point. Ray's web-site store is located at his web-site...of course!!
Ray Stevens Web-Store
.
As most people are aware, Ray Stevens is often credited with putting Branson, Missouri on the map in the early '90s with his consistent string of sold-out concerts at his own theater. There were theater's in Branson well before Ray built his in 1991...Roy Clark as well as Boxcar Willie were among the very first entertainers to open theater's down there. However, the timing was right in the early '90s and Ray just happened to be in the right place at the right time. It was at a point in country music's history where a lot of established (though still popular) acts were being pushed off the radio...and quite a few of them went to Branson either to open up a theater or to become featured acts in the variety of theaters already in business. Ray built his theater upon a suggestion from an associate who realized that in each of Ray's previous engagements in Branson that the tickets sold out rather quickly. Armed with knowledge like that it didn't take long for Ray to decide to have his own theater. Ray's theater was in business during 1991, 1992, and 1993. He shut down the theater afterward and decided to go back out on the road...the sheer exhaustion of doing two shows a day six days a week throughout the bulk of each calendar year, he said, was a big reason that he needed to take a break. He also remarked that he wanted a break from the business side of running a theater...and so...he shut down the theater and it was leased to other productions. He returned to the theater a decade later and did a couple more seasons in Branson before shutting it down for good. As I commented in previous blogs the theater was bought by RFD-TV at some point in 2007 or 2008. The image you see is of Ray making one of his grand entrances in 1993...riding a Harley-Davidson as a visual tie-in with his 1980 song, "
Shriner's Convention
"...complete with Hawaiian flower shirt.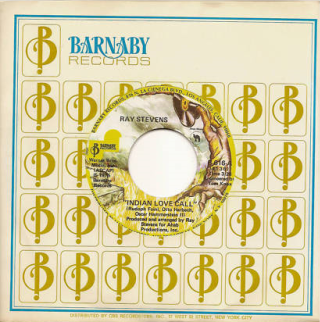 You all can click on the image for a bigger look, of course. One of the things that I'm sure a lot of you visitors are aware of by now is I re-size images so that they don't take up a lot of space. A lot of blogs post huge images to where a lot of their words are shoved off to the left or right margins but I prefer to have my blog looking somewhat organized and neat. The image is of "
Indian Love Call
", a single that Ray Stevens released in 1975. Those of you who want to see video of Ray performing this song from the year it was released need to purchase a DVD of
Pop! Goes the Country
. The performance will be featured on Volume Four, Chapter Three of the disc. There are a five more episodes of the program on that release but Ray's portion is Chapter Three. I consider it one of the best volumes because not only is Ray Stevens featured in one of the episodes but you also get episodes starring the likes of Faron Young, Carl Smith, Ronnie Milsap, Charlie Daniels, Johnny and June Carter Cash, Bobby Bare, The Statler Brothers, and others. You can find the DVD's at their web-site store
Classic Country DVD
.