This hour the
We The People
digital album is ranked #39 among comedy Mp3's at Amazon. I typically don't keep track of the album anymore due to the fact that it's been available for a number of months now. I realize now that even after this many months that there may be some who have no idea that the collection is available and therefore have no idea that politics has become a part of Ray's career at the moment. The CD became available nationwide in June of this year. It had previously been available exclusively to Ray's web-site store during the months of April and May of this year...next month will mark half a year since it's release. It's actual release day was April 1, 2010. The CD version of the collection which includes a bonus DVD of four music videos is ranked more modestly and I guess the reason for that is because it's a bit more expensive than the digital version. Obviously with a digital album there's no added cost for the physical CD and a DVD and so those added expenses don't show up in the price. Also, digital albums are way more convenient to a consumer...a few clicks of the mouse and the music's downloaded onto your computer's music program. A physical CD of course would require mail order due to Ray's music not being available in shopping stores.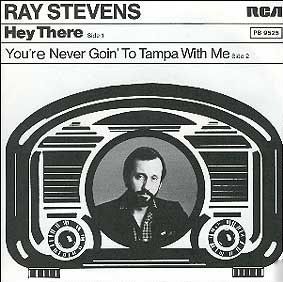 I like Ray's comical twist on "
Hey There
" so much that I find myself returning to the subject matter often. I'm assuming it was Ray's idea to perform the song half-serious and half-mocking...giving it a soft, easy-listening feel and blending it with a bizarre vocal performance that comically clashes with the arrangement. You'll never have a straight face while listening to the original "
Hey There
" again once you hear Ray's version. It mocks radio programs that play soft dance music...shifting 30 years to 2010 it's the kind of program you may hear on any number of NPR stations. The connection to radio is why Ray's image appears on the picture of a radio. I'm sure there was NPR back in 1980 but I don't think it was in the mainstream as often as it is today. I listen to a few NPR programs that play classic country music...but I'm not what you could call an NPR backer. I don't give money to public radio or public TV...and I'm not part of the political make-up of most NPR listeners...but as I mentioned I listen to local NPR on certain days when the classic country music programs air.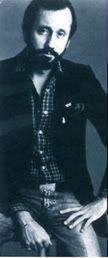 Ray Stevens lookin' mighty serious in this picture. As you can tell this picture was used on the 1980 "
Hey There
" single. That particular single was released internationally...it wasn't released commercially here in America. I have no information about the actual picture...I'd seen a photo credit indicate the picture was taken in Canada but it didn't give a year...for all I know the image could have originated in 1980, 1979, or 1978. Given that the image shown up on a picture sleeve for a 1980 single obviously indicates it's from somewhere prior to 1981. I'd say anywhere between 1978 and 1980. The image appears on the BMG/RCA collection titled
The Last Laugh
from 1999 and that particular collection was re-released in 2004 with what appears to be a painted replica of Ray's image. I know computer special effects are at play but it's the same image. The non-computer enhanced image appears on an RCA compilation from 1990 titled
Everything Is Beautiful and Other Hits
. Seeing that the picture has only appeared on RCA-released material it's safe to say 1979 or 1980 is the year the picture was taken. Ray signed with RCA in late 1979. Here's a look at the 2004 re-release of
The Last Laugh
with that painted look...the ironic thing is Ray recorded a song called "
The Last Laugh
" while at RCA but that song doesn't appear on the CD of the same name...in fact, only one song that Ray recorded while at RCA appears on the compilation.
I think what happened is someone brightened the picture a bit too much or they colorized a black and white image of Ray and this was the result. The full-size image of Ray that you see was actually a publicity picture by RCA...and it was black and white...and so my guess is those who put together the 2004 re-release of 1999's
The Last Laugh
colorized the picture for dramatic effect. 1999's release was handled by BMG while the 2004 re-release was handled by Collectables. There are 10 songs on the collection ranging from the 1968-1970 time frame with a few songs from 1974 and one from 1980. The obvious songs are here...songs like "
Along Came Jones
", "
The Streak
", "
Everything Is Beautiful
", "
Gitarzan
", "
Shriner's Convention
" etc etc. The label also includes a 1968 single, "
Unwind
", plus a 1966 comedy song, "
Bagpipes, That's My Bag
", and 1970's "
America, Communicate With Me
".