Not a lot of people realize that Ray Stevens had great success with his
Turn Your Radio On
album. In compilation after compilation usually the songs people hear are "
Turn Your Radio On
" and or "
All My Trials
". The two other hit singles from that album rarely got much inclusion: "
A Mama and a Papa
" and "
Love Lifted Me
". The album reached the country Top-20 in 1972. As far as chart statistics go "
Turn Your Radio On
" hit the country Top-20 while "
All My Trials
" and "
A Mama and a Papa
" both hit the Easy-Listening Top-10. That format is now known as Adult-Contemporary. The fourth hit, "
Love Lifted Me
", ironically enough became a Top-5 hit in Bangkok of all places...it completely missed the charts in America. In fact, it was in mid September of 1972 that the single debuted over there and it reached it's Top-5 peak by month's end during the song's third week on the chart. It started to fall back down the chart in the first week of October.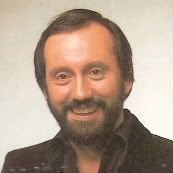 Keeping with the religious/gospel overtones we move on to a single that Ray released on RCA in 1982 with the peculiar title of "
Where The Sun Don't Shine
". The song comes complete with a church style organ, hand-claps, and bouncy sing-a-long lyrics. The story of the song is about a man and a woman who've broken-up. The man wants to be a gentleman about everything and offers to give the woman just about everything he has, even going so far as to say he'd help her put everything in a U-haul, but then among all this gentleman behavior he offers her some advice of where she can take her love and put it as well. It's a novelty song, of course, but it's performed so serious which makes it funnier...especially toward the end where Ray really gets into the spirit of the song and like a gospel shouter continues to tell the woman where she can stick her love. The song is much better than the actual peak performance on the country charts would indicate...as I pointed out in some of my earlier blogs this was at a time when country radio was starting to shun the comedy song in general no matter who the artist happened to be.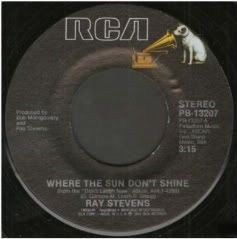 I saw Ray perform the song on television only once...it was during a clip-filled program that used to air on The Nashville Network. The program was called
Country Standard Time
and it spotlighted classic performances from country artists through the years...in one episode they shown Ray performing "
Where The Sun Don't Shine
" on an episode of
That Nashville Music
. The song comes from Ray's 1982 album,
Don't Laugh Now
. In the mid '80s it was included on the RCA
Collector's Series
album which is where the picture of Ray comes from. I scanned the image from my personal collection. The album was re-issued in cassette form in 1987 and then it was re-issued in CD form in 1992. Since that time the vinyl version, obviously, has gone out of print as did the cassette and CD versions. RCA has not re-issued the collection digitally yet. As Ray Stevens fans we're all hoping RCA will release all of Ray's material in Mp3 format at some point...even CD format would be great as well! My advice is check eBay or some other on-line music store for
Collector's Series
. Sometimes the actual vinyl copy of
Don't Laugh Now
comes up for sale.
After doing my daily check of Amazon I discovered that Ray's current single, "
God Save Arizona
", is among the best-selling Mp3 singles in the
Alternative Country-Americana
category. This is the first time I'd seen the single ranked in a best-seller list and so my guess is it debuted at some point today and has risen each hour. As of this writing it's ranked at #33. It's anyone's guess why Amazon decided to put the single in that category instead of in the country format as they did his previous releases. Perhaps the overall feel of the song being so tied to America enabled it to be tagged in that category? Whatever the reason...as long as it's listed as a best-seller is all we fans care about because it shows those who criticize him that there
is
a great number of people who agree with his points of view. Two of his You Tube music videos have combined to total over 6,000,000 hits...with this kind of track record what more proof do the skeptics and naysayers need?? Ray really
does
speak to a large majority of people...and I'm sure you all, like myself, get annoyed whenever you read a blogger try and make Ray out to be a representative for a small group of people.