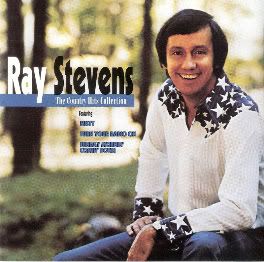 Varese Sarabande issued this collection in 1998...using the same picture of Ray that graces his 1973 album,
Nashville
. That particular album hit in November of 1973 and reached the country Top-40...as did the title track, "
Nashville
". In a lot of ways this was Ray's experiment with a distinctly country feel...of course during this era the mainstream
country feel
was pop-driven lyrically with a few country and bluegrass instruments thrown in like a banjo, fiddle, steel guitar, and or the mandolin. The added instrumentation was more or less an attempt by Music Row to embrace traditional country music while at the same time broaden it's appeal. This sort of thing has existed for decades even though some modern-day critics proclaim the 1990's as being the decade traditional country music died. This
Country Hits Collection
, issued in 1998, features an almost at random sampling of a lot of songs Ray Stevens recorded between 1969 and 1975. There's 16 songs altogether. The thing that this collection was notable for at the time was the almost exclusive album song track list. What I mean by that is the CD featured way more album songs from various Ray Stevens albums than actual commercial singles. Also, this collection was of importance to those who didn't have the actual vinyl albums from Ray...and therefore hadn't heard these songs until 1998. This collection marked the first time eleven of the sixteen songs were available on CD. Nowadays these songs are available as digital downloads thanks to Mp3 availability...but back in 1998 this material was still largely "out of print" and highly coveted among Ray Stevens fans. The CD features great liner notes and obscure pictures of Ray taken during the era in which these songs were recorded.
The liner notes were written by an author named Mike Ragogna in the early part of 1998. This collection is still the only one to feature a 1975 single-only track, "
Piece of Paradise
". The song was originally released as the b-side of "
Indian Love Call
" but wasn't featured on the
Misty
album or any other album for that matter until this 1998 collection came along. "
Piece of Paradise
" isn't the same song as "
Piece of Paradise Called Tennessee
" which Ray recorded in 1983...they're two totally different songs with similar titles. Ray's version of "
Young Love
" is featured on this CD...it, too, comes from the
Misty
album. The thing about "
Young Love
" was it became the final single to reach the charts during Ray's tenure with Barnaby Records. It hit the country music charts in January of 1976...typically not the month new singles become available...but given that Ray's version of the song was deliberately a slow ballad it stood a chance to become a commercial, if not an airplay, hit. There's long been the belief that ballads do well in cold months while up-tempo songs do well in warm and hot months. Ray's version of the song did moderately well on the country charts...it didn't crack the country Top-40...but it managed to come close. The 16 songs on this CD are as follows...
1. Sunday Mornin' Comin' Down; 1969
2. Turn Your Radio On; 1972
3. Nashville; 1973
4. Misty; 1975
5. Young Love; 1976
6. She Belongs To Me; 1970
7. Losin' Streak; 1973***
8. Just One Of Life's Little Tragedies; 1973***
9. Easy Lovin'; 1973***
10. Sunshine; 1975
11. Take Care of Business; 1975
12. Undivided Attention; 1973
13. Destroyed; 1973
14. Loving You On Paper; 1970
15. Piece of Paradise; 1975
16. Deep Purple; 1975
***- These 1973 songs come from
Losin' Streak
, one of Ray's most under-rated and little known albums. The album featured no commercial hit singles even though the material is all top-notch and standard Ray Stevens perfection.